Mary Mackillop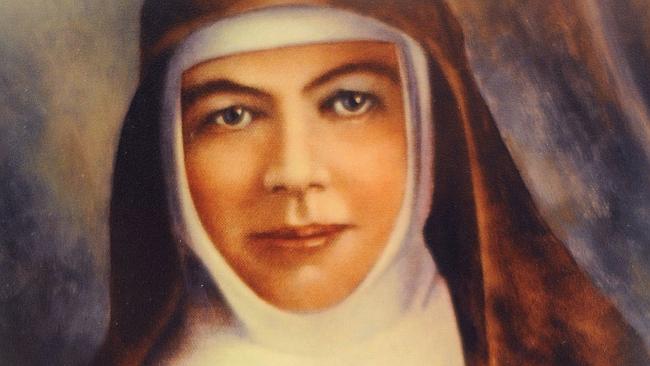 On January, 15, 1842, Mary Mackillop was born of Scottish parents, Alexander Mackillop and Flora MacDonald in Fitzroy, Victoria. Mary, the eldest of eight children, was well educated by her father who spent some years studying for the priesthood in Rome but, through ill health, had returned to his native Scotland until 1835 when he migrated to Australia. Unfortunately, he lacked financial awareness, so the family was often without a home of their own, depending on friends and relatives and frequently separated from one another.
From the age of sixteen, Mary earned her living and greatly supported her family as a governess, as a clerk for Sands and Kenny and as a teacher at the Portland school. While acting as a governess to her uncle's children at Penola, Mary met Father Woods who, with a parish of 56,000 square kilometres, needed help in the religious education of children in the outback. At the time, Mary's family depended on her income so she was not free to follow her dream of assisting Father Woods. However, in 1866, greatly inspired and encouraged by the priest, Mary opened the first St Joseph's school in a disused stable in Penola. Young women came to join Mary and so the Congregation of the Sisters of Saint Joseph was begun. In 1867, Mary was asked by Bishop Shiel to go to Adelaide to start a school. From there, the Sisters spread in groups to small outback settlements and large cities around Australia and overseas.
Throughout her life, Mary met with opposition from people outside the Church and even from some of those within it. In the most difficult of times, she consistently refused to attack those who wrongly accused her and undermined her work, but continued in the way she believed God was calling her.
Mary died on August 8, 1909, in North Sydney where her tomb is now enshrined. This great Australian woman inspired great dedication to God's work in the then new colonies. In today's world, she stands as an example of great courage and trust in living out God's loving and compassionate care of those in need.
On October 17, 2010, Mary Mackillop was canonised as Australia's first saint. She is known as Saint Mary of the Cross Mackillop.
(Text adapted from www.sosj.org.au)
Quick Links
Contact Us
14 Millar Street
Waroona WA 6215
Postal Address
P.O. Box 129
Waroona WA 6215
Phone: (08) 9782 6500